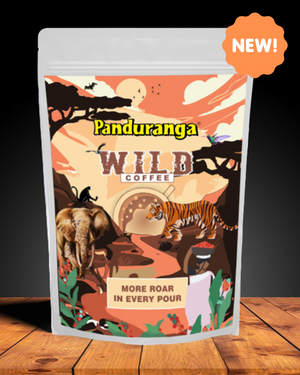 A Wild Adventure from Bhadra Wildlife Sanctuary

Dive into a cup of Panduranga Coffee, freshly brewed from the untouched expanses of the Bhadra Wildlife Sanctuary in Muthodi Forest, Chikmagalur. Nestled in the heart of the Western Ghats, this pristine tiger reserve pulsates with life, hosting an array of mammals, reptiles, and a staggering 250+ bird species.

Our select Arabica coffee is cultivated in harmony with nature, under the natural shade of forest tree canopies. These plantations don't just produce coffee; they're a lifeline for the majestic wild tigers and other animals, serving as essential wildlife corridors and safe refuges. Every sip of our coffee tells the tale of a unique coexistence where farm workers and tigers share the land, demonstrating the perfect balance between man, beast, and nature. 

Why is Wild Coffee different?
The movement of tigers across our plantations is a testament to the ecological balance we maintain. The tiger's presence ensures the soil remains enriched, naturally producing bio-compost that enhances the fertility and flavor of our beans. The result? A cup of Panduranga Coffee that delivers an unparalleled aroma and flavor, promising an unmatched sensory experience.

Opt for Panduranga Coffee – where wild elegance meets premium quality.  Take a walk on the wild side, and remember, every sip holds a story!