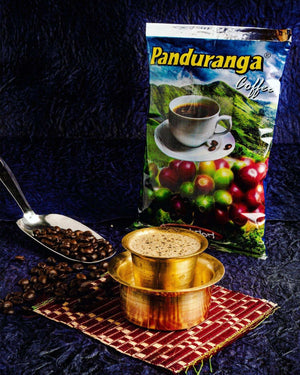 To start your day off right, wake up to this perky, heavy bodied, high fragrance, rich mouth feel and pleasant mild bitter after taste coffee. Brown Gold is an epitome of Arabica and Robusta blend with a splendid culmination of coffee aromas.
Selectively hand picked red cherries are carefully processed to harness the essence of soil. The arabica beans grown in the majestic slopes of Bababudan hills region are infused to create a fragrance that can be savored in every cup of this fine Brown Gold coffee blend.
This classic blend is best consumed with milk and most importantly best enjoyed in the company of good friends and conversations.
Process
Washed
Roast Level
Medium
Altitude
3500 feet.
Location
Chikmagalur, Karnataka, India (South)
Brew with
Moka Pot / South Indian Filter / Coffee Maker