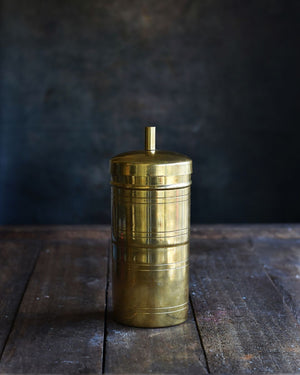 Brass Coffee Filter
★★★★★★ | Reviews
Sale price Price $49.99 Regular price Unit price
Size 1 , 150 Ml , Ideal 2 to 3 Cups Coffee Brass Hand-made Filter has 3 components - 2 Cylindrical cups (Upper & bottom) + 1 cover lid for the upper cup. Hand-made filters
Premium Hand-made BRASS COFFEE FILTER helps you enjoy an authentic taste of filter coffee at home. Enhances the aroma of decoction and keeps it fresh.
Rather than buying perishable vessels often you can invest in the healthy and environment-friendly utensils made of Brass and lead a sustainable lifestyle. Brass is hard and durable! When consumed from the brassware, the properties present in it helps you to enhance the process of digestion by triggering your hunger.
The first and the foremost thing to use Brass is because it keeps the food warm for a longer duration of time when compared to other vessels.
Made in India