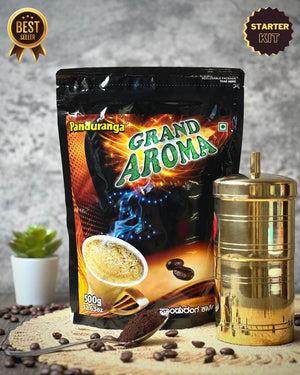 South Indian Filter Starter Kit
★★★★★★ | Reviews
Sale price Price $69.99 Regular price Unit price
Are you new to filter coffee brewing? Confused about which Filter Coffee blend to choose from?
If you love the process of traditional slow brewing of coffee with enhanced taste and flavour.
We suggest you begin your home brewing journey with our South Indian ( Brass ) Filter Starter Kit.
Serves: ~50 Cups 
Each Kit Includes:
1 x Brass South Indian Filter ( 2 - 3 Cups )

1 x 500 gms "Grand Aroma" Filter Coffee ( our best-selling & consumer's most loved blend )
About Grand Aroma:
Grand Aroma is an exclusive blend of premium roasted and ground coffee made from various carefully selected coffee beans grown on high-altitude, sky-kissing plantations in Chikmagalur (the birthplace of coffee in India ). The coffee is blended with 15% speciality chicory to give it a rich caramel taste and mouthfeel.
About Brass Filter. 
You can now experience authentic South Indian Kaapi with this timeless South Indian Brass Coffee Filter in your home.
Premium Hand-made BRASS COFFEE FILTER helps you enjoy an authentic taste of filter coffee at home.
For generations, every South Indian home had a morning ritual of brewing coffee in this slow percolation filter. Enhances the aroma of decoction and keeps it fresh.
And brass has immense properties that are good for one's health. Most importantly it keeps the decoction warm for a longer period of time.
Features:
Size - 150 Ml,

Cups -  2 to 3 Cups of Coffee 

Brass Hand-made Filter has 3 components - 2 Cylindrical cups (Upper & bottom) + 1 cover lid for the upper cup.