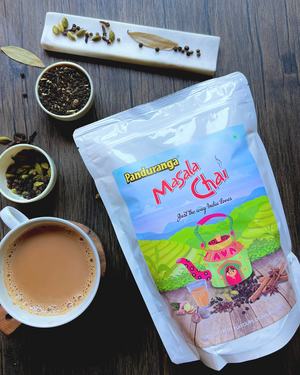 Our masala chai is a warm and aromatic blend of premium spices. It is made with the finest green cardamom, ginger, cloves, black pepper, and bay leaves, carefully selected and expertly balanced to create a unique and profoundly flavorful cup of chai.
The green cardamom adds a refreshing and slightly sweet note, while the ginger and cloves add a spicy kick. The black pepper and bay leaves add a subtle depth of flavour, rounding out this complex and satisfying blend.
This masala chai is a perfect blend of flavour and tradition, more than just a drink - it's a comforting and refreshing experience. Each sip is bursting with the warmth and complexity of the spices, making it the perfect drink to cosy up with on a cold winter day.
Whether you're looking to start your morning off on a high note or unwind after a long day, Indian Masala Chai is a perfect choice. So why wait? Try our comforting and invigorating Indian Masala Chai today. It's sure to become your new favourite.